WeddInc Publications Interview
Featured Los Angeles Wedding PhotograpHER

WEDDINC: We're going to begin with our favorite question, while clicking away, have you ever thought to yourself , "Hmmm, maybe I shouldn't be photographing this moment" or "this might be a little too crazy to shoot?" And if so, why?
ADAM GEORGE: Luckily, there hasn't been much drama at our weddings, and haven't been in that position very much. However, one time, while photographing a Catholic church ceremony, the elderly priest started to lose his balance on the marble steps at the front of the church; As he was falling, I had a brief debate with myself over whether or not to photograph that moment, ultimately coming to the conclusion that as much as I feel bad about what is happening, it's my responsibility to document the wedding: the good, the bad and the ugly. However, once he fell the room was silent and the click of my shutter was painfully obvious. In that case, I decided that one image was enough to document the moment. Fortunately, the priest wasn't hurt in the fall.
WI: NOT MANY PHOTOGRAPHERS CAN SAY THAT THEY WERE MENTORED BY CELEBRITY PHOTOGRAPHER, DOUGLAS KIRKLAND WHO ONCE SHOT MARILYN MONROE. How would you say this experience contributes to your personal style today? How did this relationship begin?
ADAM: Yes, I'm very fortunate to call Douglas Kirkland (who has photographed just about every big name in Hollywood) my mentor and friend. He's taught me a lot over the years, and I'm still learning from him today. One thing that sets Douglas apart, which I believe has contributed to my style, is that he is always exploring and trying new things. Looking through his book, A Life in Pictures, an incredibly diverse collection of creative work spanning six decades, is enough to motivate and inspire any photographer to keep trying new things.
I met Douglas in high school when my photography teacher, Ken Neely, suggested I seek a mentorship with a photographer whose work I admire. Never expecting it to work, I simply picked up the phone and called Douglas. I'll never forget that conversation! Douglas answered the phone with one enthusiastic word: "Studio!". When I asked if he'd be willing to mentor me, he answered without hesitation: "Absolutely! What would be a good time for you?". I was floored by his accessibility and generosity, and that was just our first interaction! While Douglas gave me great photography advice and encouragement, I think the biggest lesson I've learned from him is to be open, humble, grateful and generous.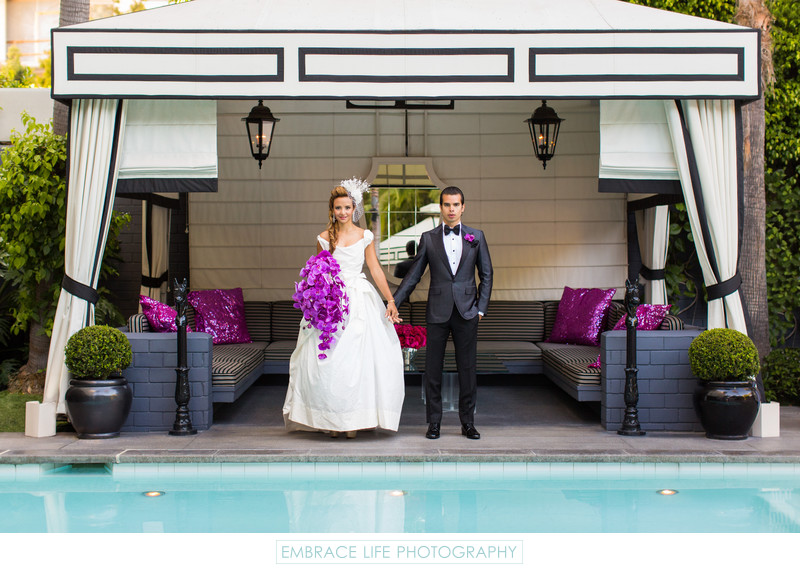 WI: What would you say your experience at Brooks Institute of Photography brought to your list of abilities besides being on the Dean's List, of course?
ADAM: My class at Brooks (2000-2003) was the last class to learn analog film photography from start to finish. After our class, the transition to digital was in full swing. Learning the fundamentals of photography on a 4x5 view camera, hand developing black & white film, making my own black & white and color prints in the dark room and finishing those prints by cutting my own mats to the exacting standards of the Brooks faculty honed my eye to create the best image possible from capture to final presentation. At the same time, because I was there during the transition years, even though we were capturing our images on film, we were also scanning those negatives and learning the digital artistry and retouching side of things, which have also been invaluable in my professional career.
WI: Did any one person in your life inspire you to become a photographer? We understand that it's been a passion of yours since the age of 15.
ADAM: When I was in elementary and middle school, my two older brothers took high school photography classes. I remember how fascinating it was to see them come home with these big, black & white prints that they made from photographs they took. The "something from nothing" aspect really appealed to me, and I knew I wanted to take a photography class in high school. In my sophomore year, I took the beginning photography class and after shooting, developing and printing my first roll of 35mm black & white film, I was hooked! I decided at that time that this is what I wanted to do.
WI: How does photography fulfill you?
ADAM: Wedding and portrait photography require more than just technical skills in the craft of photography; They also require a bit of psychology, plenty of patience, and sensitivity. To be successful, I need to not only create striking images by capturing the most beautiful moments and the prettiest light, but also great experiences that make people comfortable during the shoot, and excited about how they look in their photographs. I pour all of myself into each shoot and there's nothing better than the feeling I get when my clients receive their images and fall in love all over again, re-living moments from their most special occasions.
WI: Photography, especially wedding photography is such an intimate art. How do you go about connecting with your client to make them feel comfortable with you?
ADAM: In my experience, there's no better way to connect with clients and make them feel comfortable in front of the camera than to start from a place of understanding. These photographs need to look natural, comfortable, and confident. I love to know what my clients are into, what excites them, how they interact naturally, and relate to them in ways that allow their personality to come out and shine. That process, and the images, are different every time because I try to avoid projecting my personality onto people, instead focusing on bringing theirs to the surface.
WI: Can you give us some pointers for brides who aren't professional models but might like to look like one on their wedding day?
ADAM: First, it's important to recognize that almost every person I work with has some degree of camera-shyness or lack of professional photography experience. The number of people that work in front of the camera professionally is relatively small.
On your wedding day, the two most important factors are staying relaxed and trusting not just your photographer, but all of the professionals you've hired (which also helps with the first part). When your mind is clear and you're free to just enjoy yourself and all the emotion and fun of your wedding day, you will be radiant and your photographs will reflect it.
Also, know that the wedding industry shows a lot of "styled shoots" on the pages of magazines, wedding blogs and Instagram feeds, often without distinguishing them from real weddings. Styled shoot subjects usually are models and the shoots are done with the hands-on support of expert stylists, and without the time constraints of a wedding day. They're often stunning and provide great inspiration, but try to distinguish them from real weddings for your own peace of mind.
WI: Have you won any awards or recognition?
ADAM: Every other year since 2009, I've entered the Wedding and Portrait Photographers International annual 16×20 Print Competition. It's an enormous competition with incredibly talented contributors from all around the world. I love the challenge of producing work that can stand out among the thousands of entries and score well enough to receive an Honor of Excellence. Each time, I've walked away with multiple ribbons (for a total of 20, now) and a better understanding of what works well and what doesn't. My hope is that this exercise benefits each one of my wedding, portrait and commercial clients as my skill and experience grows. 2016 is supposed to be an off year, but I broke my pattern and entered two photographs anyway. Fingers crossed.
Embrace Life Photography has also received the WeddingWire Couples' Choice award every year since 2011. Those awards recognize the top five percent of wedding professionals who demonstrate excellence in quality, service, responsiveness and professionalism. I'm always honored to receive this award because it's the direct result of positive reviews from Embrace Life Photography clients.
WI: What do you think are the most important considerations when selecting a professional wedding photographer, before hiring them?
ADAM: First, you've got to love your photographer's work. If you're not excited about having photographs like the others in his or her portfolio, nothing else really matters and you should keep looking.
Once you find work you love, without a doubt the most important factor is experience. There really is no substitute for experience. Experienced photographers know how to plan ahead for a successful, smooth, stress-free day because they've documented hundreds of weddings. How will an inexperienced photographer deal with any of the multitude of unexpected twists and turns that a wedding day can take? For example, even if your photographer is incredible with natural light, will he or she be able to adapt well if it's dark and cloudy (or even rainy) on your wedding day, and artificial lighting is necessary?
Once you've found an experienced photographer whose work you love, check online reviews and make sure their past clients have been thrilled with the photographs and the experience of working with the photographer. It's pretty hard to go wrong with those three things in place.
WI: What is YOUR favorite spontaneous image you've shot to date? Why is it your favorite?
ADAM: One of the best parts about photographing weddings, and people in general, is that they're a little unpredictable. Even a setup shot can instantly become a spontaneous opportunity. Many of my favorite shots are of people laughing, exuding joy and having fun with people they love.
When it comes to spontaneous images, it's pretty hard to beat a great reaction from a surprise proposal. One of my favorites (above) comes from our client Enrique's proposal to his then girlfriend, Fatima. While they were visiting L.A. from Texas, Enrique surprised Fatima with a portrait session – something she had been wanting to do for a long time. At the end of the portrait shoot, Enrique dropped to one knee and proposed. I just love Fatima's reaction and I'm so glad that they'll always be able to look back on this beautiful moment that I was fortunate enough to capture for them.
WI: Who is your favorite photographer, famous or not and what is your favorite photo of theirs? How does this piece inspire you?
ADAM: I can't be the only person who struggles to name favorite artists, bands, movies, etc, right? There are many incredible photographers whose work I admire, and many of them are completely different from one another. That said, I can definitively name my favorite photograph of all time: Arnold Newman's black & white portrait of composer Igor Stravinsky (https://iconicphotos.wordpress.com/2009/05/05/igor-stravinsky/). To me, it's portrait perfection. I'm beyond inspired by how extremely simple, yet so incredibly designed and graphic it is. I strive to incorporate a similar aesthetic of simplicity and design in my own work.
WI: Talk with us about the "unplugged" wedding trend. What are your thoughts on this style and do you think it's here to stay?
ADAM: Unplugged weddings are a way that some couples choose to communicate to their guests, "We want you to be present and in the moment, not hidden behind an electronic device". While it's not for everyone, I totally get where they're coming from because I occasionally choose to unplug in my own personal life. Of course I take pictures with my phone and cameras, like everyone else, but for the most important life experiences, I try to prioritize truly living and absorbing the moment over recording it.
Personally, I'm obsessed with music and love going to live shows. So, when I was younger, I thought it would be cool to photograph concerts. However, I soon realized that at the end of a show, I didn't even remember hearing the music because I was so focused on photography. I had a similar experience when photographing a helicopter tour of Kauai; the helicopter was returning to the airfield to land when I realized that I spent the whole flight looking through a viewfinder, analyzing what I was seeing and doing, instead of truly seeing. Because of those experiences, I'm selective about when to document and when to just absorb an experience. The awesome thing about a wedding day is that there are professional photographers present who are responsible for documenting the moments, emotions, beauty and fun. An added bonus of the unplugged wedding is that guests' faces are visible to the bride and groom, instead of obscured by their devices, when they look out to the crowd or look back on their wedding photographs.
As seen on WeddInc's website:
http://www.weddinc.com/adam-george-embrace-life-photography/

---