Ambassador Campus Pasadena
Ambassador Mansion Wedding Photography
Pasadena, California Wedding Photographer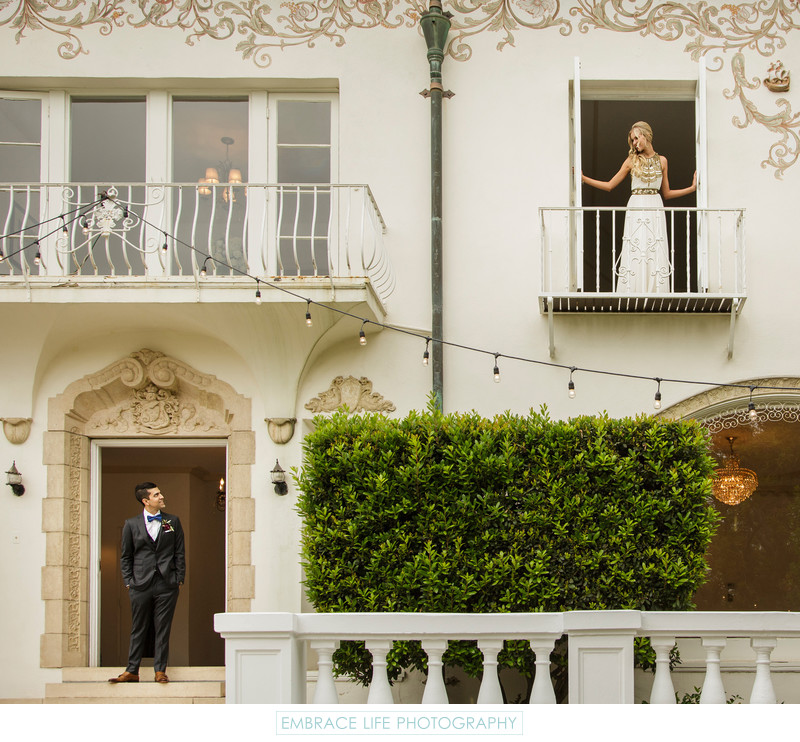 Grandeur and character do not do the Ambassador Mansion and Gardens justice. Located in Pasadena, California, the grounds and mansions on this incredible property bring to heart the elegance and wealth of times gone by. Even the surroundings, specifically the street on which it is located once recognized as Millionaire's Row, recall the large scale grandeur of Old Pasadena. With a multitude of outdoor venues rich with lawns lined by a variety of mature trees, gorgeous courtyards with elegant fountains and Italian-esque pillars and staircases, you can be encompassed by vine-covered walkways and terraces fit for royalty while the gleaming Pasadena sun and stars serve as your spotlights. There are two mansions to choose from for an indoor wedding or reception. The Merritt Mansion is exquisite in its rich decor with incredible double staircases fit for your grand entrance. The Terrace Villa is slightly more intimate in scale and the ballroom has a more intimate atmosphere complete with a large stone fireplace. With all of the gorgeous surroundings, there will be ample ideal event venues and photography delights. Embrace Life photographers will be sure to capture the delicious richness to your Ambassador Mansion and Gardens wedding.
Ambassador Mansions and Gardens is located in Pasadena, California. Phone: (310) 292-5393. Website: http://www.ambassadorcampus.com. Location: 300 W Green St, Pasadena, CA 91105
Request more information for your Ambassador Mansions Pasadena wedding:

Submitting your inquiry to Embrace Life is considered a request for further communication via email. We'll communicate with you at the email address provided. You may opt out of future emails any time.
---