The Georgian Hotel Santa Monica
The Georgian Hotel Wedding Photography
Santa Monica, CA Wedding Photographer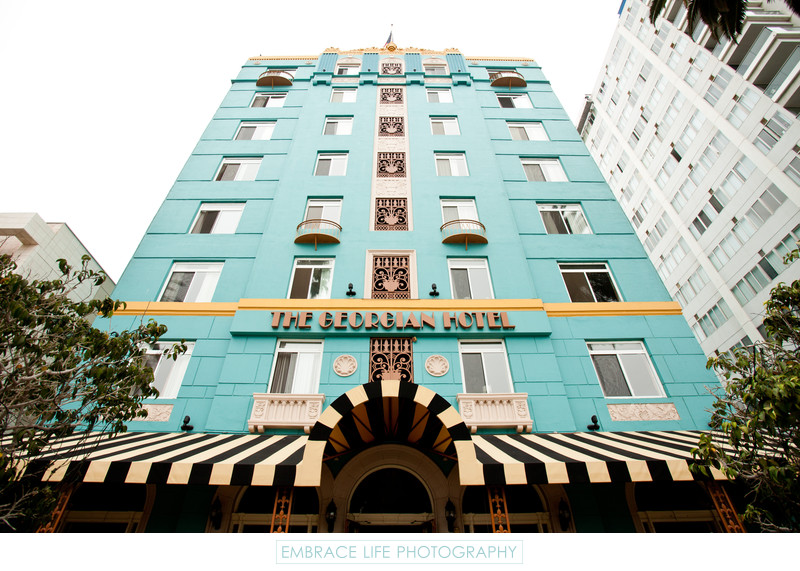 Rich in character, history and even a bit of mystery, The Georgian Hotel is one of L.A.'s last standing boutique hotels. With a history that mirrors that of early Hollywood, having housed many famous actors and actresses, as well as famous mobsters, there is an undertone of intrigue here. Situated in Santa Monica, California, the views from this intimate retreat will amaze. The Georgian is within walking distance to many of Santa Monica's main attractions such as the Santa Monica Pier and the Third Street Promenade. The Georgian itself speaks of Old Hollywood glamour adorned in Romanesque and art deco decor. One of the 'last stands' during the Prohibition, the main wedding or reception venue is keenly named "The Speakeasy". This place has a swagger that is unique and only its own. Between the hotel itself and the surrounding attractions, there are too many optimal photo ops to count. Embrace Life photographers would be privileged to capture the memorable moments of your Georgian Hotel wedding or reception.
The Georgian Hotel is located in Santa Monica, California. Phone: (800) 538-8147. Website: http://www.georgianhotel.com. Location: 1415 Ocean Ave, Santa Monica, CA 90401
Request more information for your Georgian Hotel wedding:

Submitting your inquiry to Embrace Life is considered a request for further communication via email. We'll communicate with you at the email address provided. You may opt out of future emails any time.
---