Segerstrom Center for the Arts Orange County
Segerstrom Center for the Arts Wedding Photography
Costa Mesa, California Wedding Photographer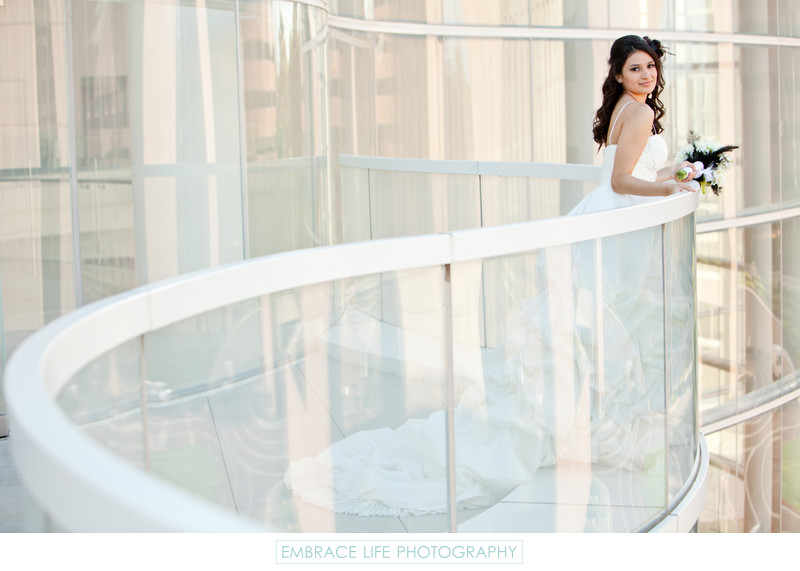 As you approach the Segerstrom Center for the Arts in Orange County, California, the term modern elegance comes to mind. The Concert Hall in particular sparkles as a crystal palace. With a completely glass exterior, you are able to gaze into this gorgeous large capacity venue. Located in Costa Mesa, the architectural design of both the interior and exterior speak to the city in which the Orange County Performing Arts Center resides. From the inside, you are able to see the exquisite contrast of the warm-toned marble and limestone interior, unimaginably lit by Swarovski Crystal lighting against the pristine blue sky native to Cost Mesa. The Concert Hall matches in splendor with its warm and subtle tones of gold, embellished by gleaming silver pendants that line the entire ceiling, and grounded by the scarlet red velvet seating. Overall modern in design, yet softened by the graceful curves of the walls and the sound of a gorgeous pipe organ, this venue truly speaks of majesty in decor as well as in size as it can accommodate over 1700 guests. Embrace Life photographers would be honored to capture the truly magical moments of your Concert Hall wedding.
Segerstrom Center for the Arts (SCFTA) is located in Santa Barbara, California. Phone: (714) 556-2122 ext. 4363. Website: http://www.scfta.org. Location: 600 Town Center Drive, Costa Mesa, CA 92626
Request more information for your Segerstrom Center for the Arts wedding:

Submitting your inquiry to Embrace Life is considered a request for further communication via email. We'll communicate with you at the email address provided. You may opt out of future emails any time.
---